Our Location

We are located at:

100 E. 15th St.
Edmond, OK 73013-4303
Phone: 405-285-4335
Fax: 405-285-0405

Store Hours
M,W,F 8am-6pm
T,TH 8am-8pm
Sat 10am-4pm
Sun CLOSED

Emergency services available 24/7.

You can email us at:


Click on the image below for a Google Map of our location.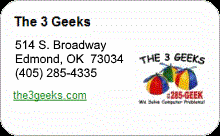 Contact Us
Thank you for visiting my web site. Please feel free to share your comments or ask a question. I will get back with you as soon as I can. Thank you.
* denotes a required field.